I was given a pamphlet last week about a community carnival in a part of Auckland, New Zealand. I noticed there was a lot of interesting vocabulary about fairs, in this case called a carnival, so I thought I would create a chart about it.
This is an example of English that you may encounter in real-life.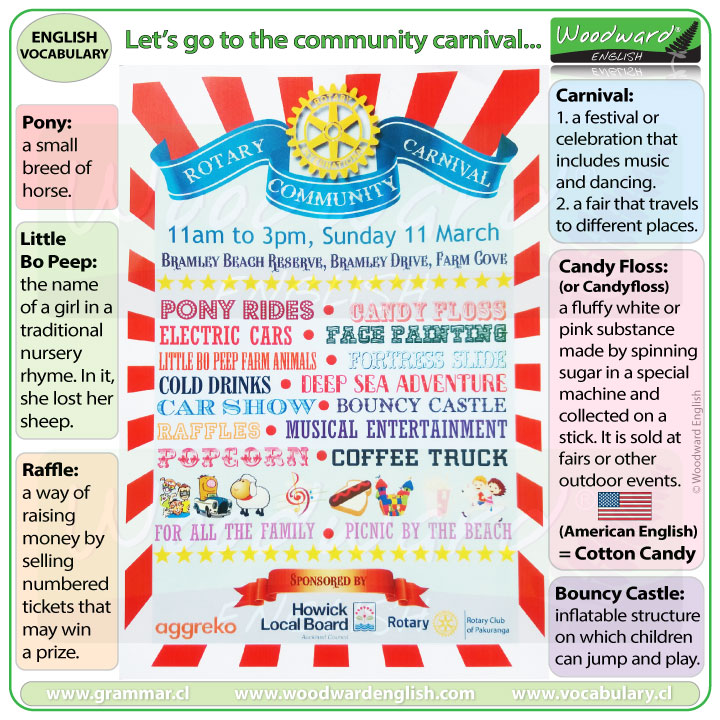 Some English vocabulary that I have explained on the chart include:
Pony: a small breed of horse. (Did you know that a baby horse is called a foal?)
Little Bo Peep: the name of a girl in a traditional nursery rhyme. In it, Little Bo Peep lost her sheep.
Raffle: a way of raising money by selling numbered tickets that may win a prize.
Carnival: 1. a festival or celebration that includes music and dancing. 2. a fair that travels to different places.
Candy floss (Candyfloss): a fluffy white or pink substance made by spinning sugar in a special machine and collected on a stick. It is sold at fairs or other outdoor events. In American English the term Cotton Candy is used instead.
Bouncy Castle: inflatable structure on which children can jump or play.
Let me know (on facebook or twitter) if you find this type of real-life material interesting or useful.