IELTS Academic Writing Task 1 Example
The following is an example of what to expect in Task 1 of the Academic version of the IELTS exam. In this sample you will see a bar graph.
Woodward Chocolate Bars
You should spend about 20 minutes on this task.
The graph below shows the quarterly sales figures of Woodward chocolate bars for last year.
Summarize the information by selecting and reporting the main features, and make comparisons where relevant.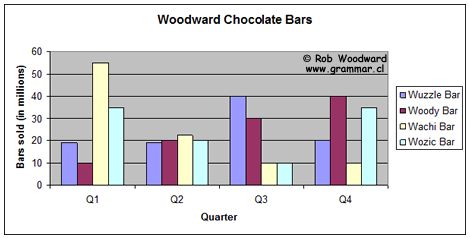 Write at least 150 words.
If you need some help with vocabulary, check out:
IELTS Academic Writing Task 1 – Describing Trends