Rob W. from Woodward English will be joining 20 teachers from around the world in the following
online English learning event
.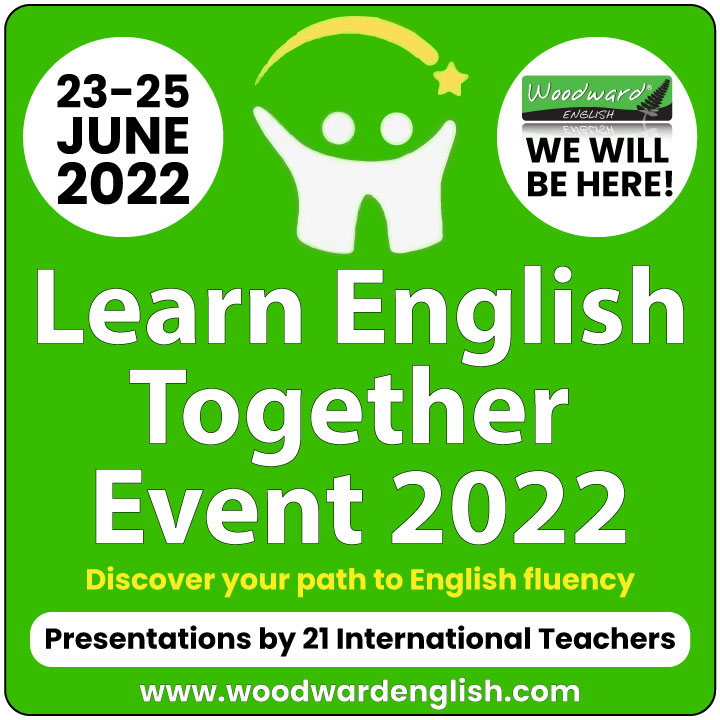 Learn English Together 2022
Learn English Together 2022
Discover your path to English fluency
Thursday, 23rd June 2022
Friday, 24th June 2022
Saturday, 25th June 2022
The journey to fluency is different for everyone and the presentations by 21 international teachers will help guide you on this journey.
WHERE?
This event is hosted ONLINE so you can join from anywhere in the world with access to internet.
FREE tickets to this event are available here: Learn English Together Event 2022
PRESENTATIONS
Over three days, 21 teachers will be giving presentations that will help you on your path to fluency.
Presentations will be around 25-30 minutes in length and will be available for 72 hours.
Why 72 hours? To encourage you to stop waiting for the right time to learn and take immediate action NOW.
THE All ACCESS PASS
An ALL ACCESS PASS is also available once you have registered.
The ALL ACCESS PASS gives you access to all presentations for 1 YEAR. As a bonus, there are cool gifts and discounts from our speakers valued at over $500.
Some of the ALL ACCESS PASS gifts and resources include:
Woodward English PDF resource pack (Reading worksheets, flashcards and activities)
Free one-hour speaking lesson from Dream On ELC.
Free one-hour session in a conversation club with The Language Circle
Three-week trial to the Sisters Speaking Transformation with Jo Moir
Monthly pass to Communication Confidence Group Sessions
Free access to a Learn Smarter Workshop with Lisa Wood
Free access to a Connect with your Feelings English workshop with Bekah from English Everyday.
Free e-book: Interview in English – Get your dream job in the English-speaking workplace by James Levin
Phonics learning videos and interactive worksheets from Take Flight Phonics
Downloadable songs and picture books from Yorkshire English Service
Downloadable games and puzzles package from Giggles English
Discount on courses and more!
FREE tickets to the event are available here: Learn English Together Event 2022
The ALL ACCESS PASS to the event is available here: ALL ACCESS PASS
(Affiliate link – I may receive a small commission, at no cost to you, if you make a purchase. This help me to continue creating more awesome content.)
The All Access Pass is available now for $30 until 22nd June 2022.
The All Access Pass will be $50 from 23rd June until 30th June.
Speakers & Topics
There are 21 speakers covering a variety of topics:
Christine Ishii – Kids2Kids
Finding and Sharing Your Spark!
Dela Martin – Dela Teaches
Reading Know-How in English
Anna Karwowska – Polca Languages
A practical guide to boosting your English. Cognitive science put to action
Bekah Bottone – English Everyday
What is Tapping? Connect with yourself and practice English at the same time
Lori Piper Baker – Lori's Language Lab
Are We There Yet?
James Levin – English Arrow
No one can teach you to be fluent
Yoko Reynolds – Global Mom to Mom
Building your own English-speaking community
Marama Carmicheal Kishimoto – Giggles English
Learning English is fun! – learn English through games, quizzes, songs and videos.
Roxana Arean – Dream on ELC
How do I get fluent in English? A view from neuroscience
Clare Whitmell – English at Home
How To Get Confident In English
Maria Gabriella Aguirre – Growing Up – Creciendo Juntos – English Program
Yes, you can! – Helping your children become bilingual!
Jonathan Huggins – Huggins International
Daily Speaking Practice is the Key to Fluency
Rebecca Tomlinson – Yorkshire English Service
Five ways to help your children to speak English
Audrey Smith – English on the Run
Being unstoppable in English – the 4 pillars for success
Rob Woodward – Woodward English
10 ways to learn English without leaving the house
Rocio Rojas M – The Language Circle
From zero to fluent: How to finish what you started
Jordana Matsuda – Heron Kids Tokyo/Take Flight Phonics
What are phonics and why your child should learn them
Lisa Wood – Your English Self
The Fluency Puzzle: 4 things you need to improve your fluency
Karina Pearl Thorne – Share Your Story with Confidence
Towards Creative Fluency
Jo Moir – Sisters Speaking Transformation
Stuck for words? How to activate your vocabulary.
Abigail Fulbrook – English with Abigail
Why Making Friends is the secret to learning
FREE tickets to the event are available here: Learn English Together Event 2022
The ALL ACCESS PASS to the event is available here: ALL ACCESS PASS
(Affiliate link – I may receive a small commission, at no cost to you, if you make a purchase. This help me to continue creating more awesome content.)