The reason I have been a little quiet lately is because I moved (with my family) from Chile, where I have been living for many years, to live back in my home country of New Zealand.
Of course coming back to NZ I quickly needed to find a house, get some furniture for it, and then had to wait for internet to be installed. Also, I needed to get my boys into their new schools… so you can see I have been a little busy.
Now that I finally have decent internet (yay!) I think I will be able to start creating more English charts, videos, and teacher resources again.
What I would like to start doing is taking more photos of signs, pamphlets, etc. in English that I come across here in New Zealand (and my travels) and publish them here. This is so you can have a taste of real-life English. Also on Instagram I will often create stories with random things about my life here in New Zealand.
The farewell cake below has the flag of Chile on the left and the flag of New Zealand on the right. There is a message written in Spanish on the cake as that is the language spoken in Chile. If you are curious to know, it says:
Feliz viaje (Happy trip / Happy travels)
Los extrañaremos (We will miss you)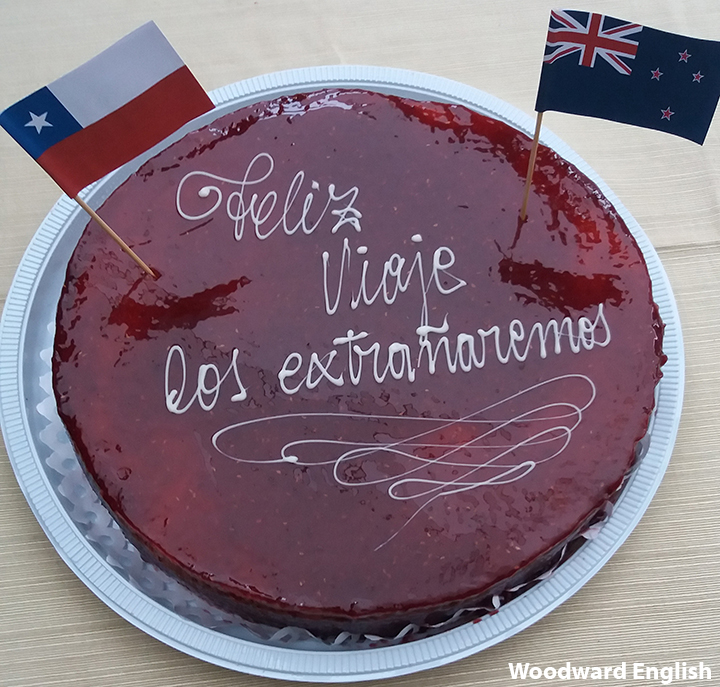 I look forward to this new stage in life for us.