We have a new video to help you learn English about Parts of the Body.
Parts of the Body in English
The names of parts of the body in English with the pronunciation of each one. We show where each body part is on a picture.
The parts of the body that appear in this video are:
head, face, eye, eyebrow, cheek, mouth, chin, forehead, nose, lip, ear, neck, shoulder, elbow, hip, forearm, chest, arm, hand, palm, wrist, thumb, finger, knee, leg, foot, thigh, shin, toe, calf, ankle, heel.
When we have two of that body part (e.g. eyes, legs etc.) we show the singular and plural spelling as well as how to say how them (pronunciation).
For more information about Parts of the Body in English with additional vocabulary, check out:
English Vocabulary about Parts of the Body
If you found this video useful please give it a "like" and share it with your friends.
We have also updated our chart about Parts of the Body and included it here: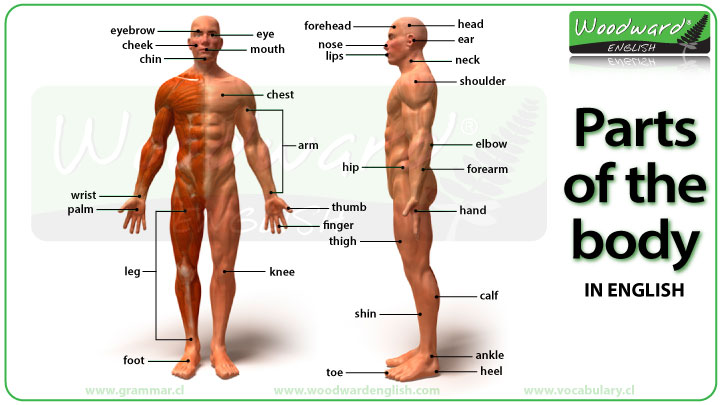 This is the new version of our chart with a little more vocabulary. It is the same one the appears in the video.
We also have two vocabulary games, one with a version of the chart above where you need to name the parts of the body. The second game is where you have a description and you need to name the part of the body it refers to.
English Teacher Resource
We also have versions of the chart that can be used in the English classroom. You will find it here: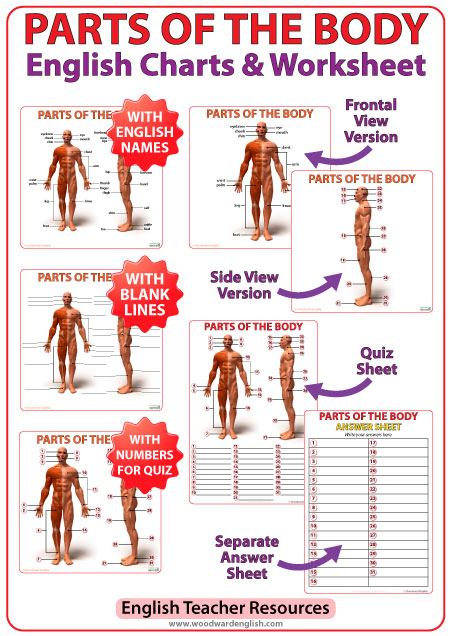 Remember to visit our Woodward English YouTube Channel
(we would love it if you could subscribe)
Have a great day!
– Rob W.