List of Daily Routines in English
(You can hear the pronunciation of each phrase in the video)
I wake up
I turn off my alarm
I get up
I take a shower / I have a shower
I get dressed
I comb my hair
I make breakfast
I eat breakfast / I have breakfast
I brush my teeth
I go to work
I start work at 9
I answer emails
I eat lunch / I have lunch
I work on my computer
I finish work at 5
I go home
I arrive home
I feed the dog
I cook dinner
I eat dinner / I have dinner
I watch TV
I read a book
I go to bed
I fall asleep
Daily routines for School
I go to school
I have classes
I eat lunch / I have lunch
I finish school at 3
I go home
I do my homework
Notice how in this lesson all of these phrases are in the simple present tense and have I (first person singular) as the subject. In another lesson we will look at daily routines using third person (he, she).
Practice Exercises
Try our interactive game to practice daily routines and using the correct verb: Daily Routines Vocabulary Game
Video practice: In the final section of the video there is a practice exercise where a cartoon of a daily routine appears on the screen. There are also three phrases next to the cartoon and you must choose which phrase best describes that activity. The answer appears after 5 seconds (approximately).
Summary Chart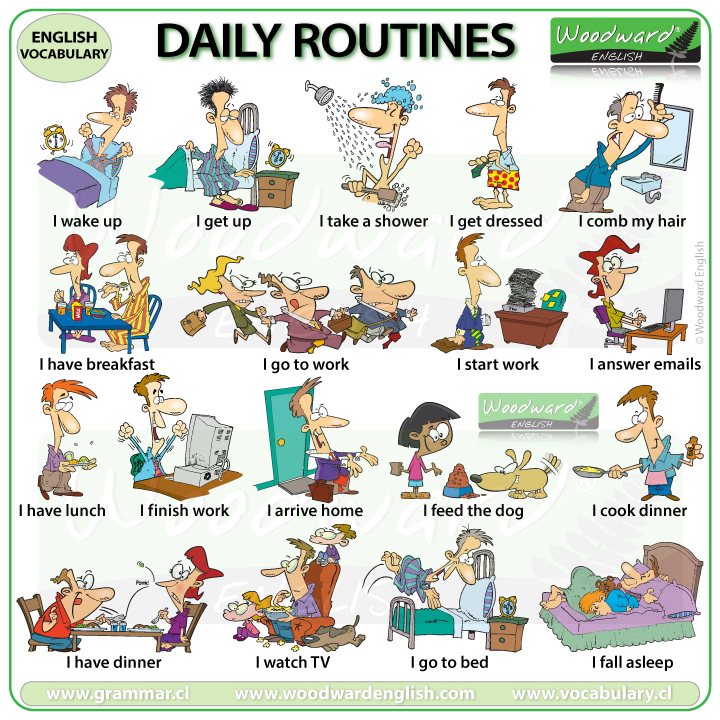 Daily Routines English Vocabulary explained in Spanish
Nuestra lección de vocabulario de las rutinas diarias en inglés explicada en español (con pronunciación):