We have already seen some basic fruit and vegetables in English.
Now, we are going to add some more words and make a list of fruit and vegetables together in alphabetical order.
List of Fruit and Vegetables in English
You can hear the pronunciation of the name of each fruit and vegetable in the video above as well as a see a photo of each one.
apple
apricot
artichoke
asparagus
aubergine / eggplant
avocado
banana
beet = beetroot
bell pepper / capsicum
blackberry
blackcurrant
blueberry
broccoli
Brussels sprouts
butternut squash
cabbage
cantaloupe (melon)
carrot
cauliflower
celery
cherry
chickpeas
coconut
corn / maize
cranberry
cucumber
dates
durian
feijoa
fig
garlic
ginger
gooseberry
grape
grapefruit
green beans
honeydew (melón)
kale
kiwi / kiwifruit
leek
lemon
lentils
lettuce
lime
lychee
loquat
mandarin
mango
mushrooms
nectarine
okra
olive
onion
orange
papaya
passion fruit / passionfruit
peach
pear
peas
pineapple
plum
pomegranate
potato
pumpkin
quince
radish
raspberry
rhubarb
silverbeet
spinach
spring onion / green onion
squash
starfruit
strawberry
sweet potato
tamarillo
tangerine
tomato
turnip
watermelon
zucchini / courgette
Do you remember which ones are fruit and which ones are vegetables?
Of course, there are many more types of fruit and vegetables around the world though the ones that appear in this list are some of the most common ones.
You can see the names of more fruit (with other details such as American English vs. British English names) here:
Fruit and Vegetables charts with photos
Here are summary charts with photos of some fruit and vegetables.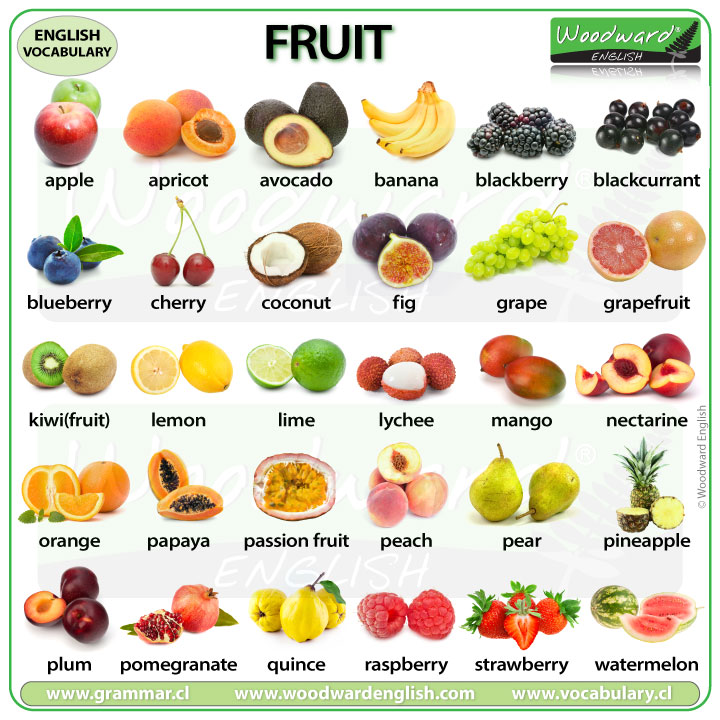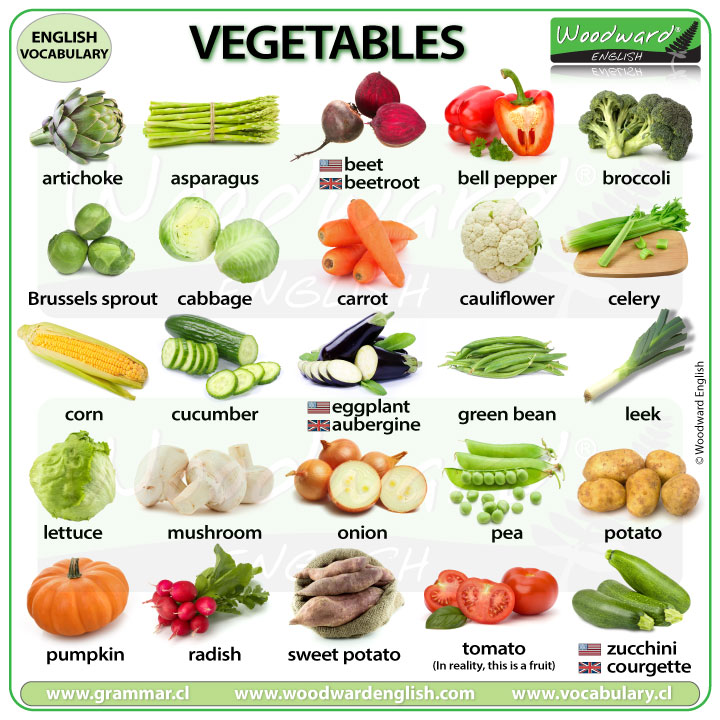 Fruit Quiz
Now it is your turn. Try this quiz about the names of fruit:
Vegetable Quiz
Now, try this names of vegetables vocabulary quiz:
English Teacher Resource
See our Fruit in English Flash Cards.